Lyon Distilling Company Announces Expanded Distribution to Delaware & Connecticut
Award-winning Maryland rum now widely available across the Mid-Atlantic region
ST. MICHAELS, MD (Feb. 9, 2018) – Lyon Distilling Company of St. Michaels, MD is proud to announce expanded distribution into Delaware and Connecticut.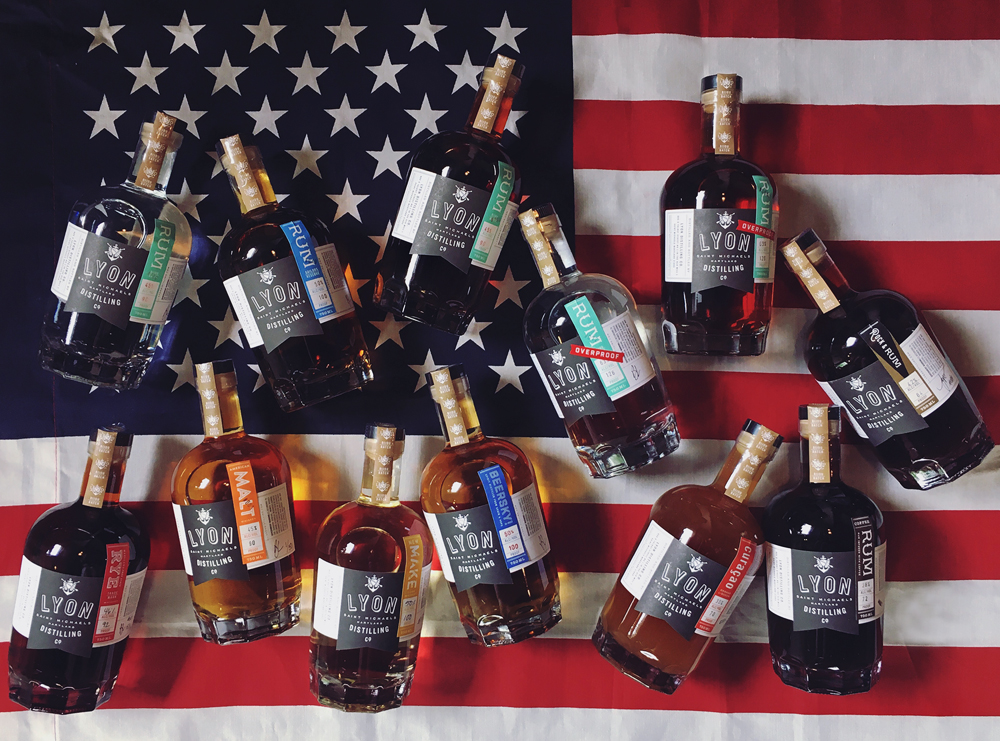 After four years of success in Maryland & Washington, DC with a line of signature rums and ultra small-batch whiskies, Lyon Distilling Company is thrilled to expand distribution to neighboring states. In Delaware, Lyon rums are now available through Craft Wine & Spirits, their existing distributor in Washington, DC since 2016. In Connecticut, Lyon is forming a new distribution partnership with Highland Imports.
"Delaware is a natural next step for us – with the proximity of the distillery to the shore and the ever-increasing demand for artisan spirits in towns like Wilmington, Lewes, and all the beaches, we are so excited to provide these spirits aficionados with a truly unique and spectacular rum," said Jaime Windon, co-founder and president of Lyon Distilling Company.
"We've been very careful in expanding our distillery capacity to ensure we maintain the quality and unique character of our spirits," added Windon. "Our wonderful team and a consistent, growing production schedule allows us to fulfill increasing demand, and also personally take our spirits into these new markets the way we always have – it's important to us to be able to share a drink and shake hands with the people who enjoy our rum."
ABOUT THE DISTILLERY
Lyon Distilling Company is Maryland's premier craft distillery, committed to producing small-batch, authentic spirits by hand on the Eastern Shore in Saint Michaels, Maryland since 2013. Tours & tastings are offered daily at the distillery, as are bottle sales. Notably, Lyon self-distributes their spirits to retailers & restaurants throughout Maryland.
THE BOOZE
Lyon Distilling Company's flagship spirit is rum: double distilled in tiny batches, from a unique hybrid of American cane sugar & molasses, in classic pot stills. The signature series includes a dynamic and distinctive trio of White Rum, Dark Rum, and Sailors Reserve "reposado-style" Rum. Additionally, an overproof series – including a 151 Rum – a line of inspired liqueurs, experimental spirits, and seasonal releases of whiskey – Maryland Free State Rye Whiskey, American Malt Whiskey and New Make Corn Whiskey – are also available in limited quantities at the distillery.
ABOUT THE DISTRIBUTORS
Craft Wine & Spirits has distributed fine wines, handcrafted spirits and beverage-related supplies to retailers and restaurants throughout Washington, DC since 2012. Owners Raul Mejia and Shannon Crisp are thrilled to expand into Delaware this year, choosing Lyon Distilling Company as one of the select brands for the launch, and all look forward to continuing the existing relationship across DC & DE.
Highland Imports opened in 2011 with a mission to offer a portfolio comprised of artisan brands, private labels, and small batch producers. "We maintain close relationships with our other brands, and we've had our eye on Lyon Distilling for the last few years, so we're thrilled to add this as the only rum brand in the portfolio," noted President, Oliver MacKinnon. With the continued growth of Artisan spirits market share, Highland Imports is honored to represent Lyon Distilling Company in Connecticut. Highland Imports will launch with Lyon Dark Rum, and expand offerings the coming months.
Delaware & Washington DC Purchase Inquiries:
Craft Wine & Spirits, 202-803-6070 www.craftws.com
Connecticut Wholesale Purchase Inquiries:
Highland Imports, 203-538-6818 www.highlandimportsct.co
Maryland Wholesale Purchase Inquiries:
Lyon Distilling Company, 443-333-9181 www.lyondistilling.com