CHESAPEAKE BAY MAGAZINE, NOVEMBER 2017
The Little Booze Factory That Could
by Laura Boycourt
Ben and Jaime didn't pick St. Michaels. It picked them.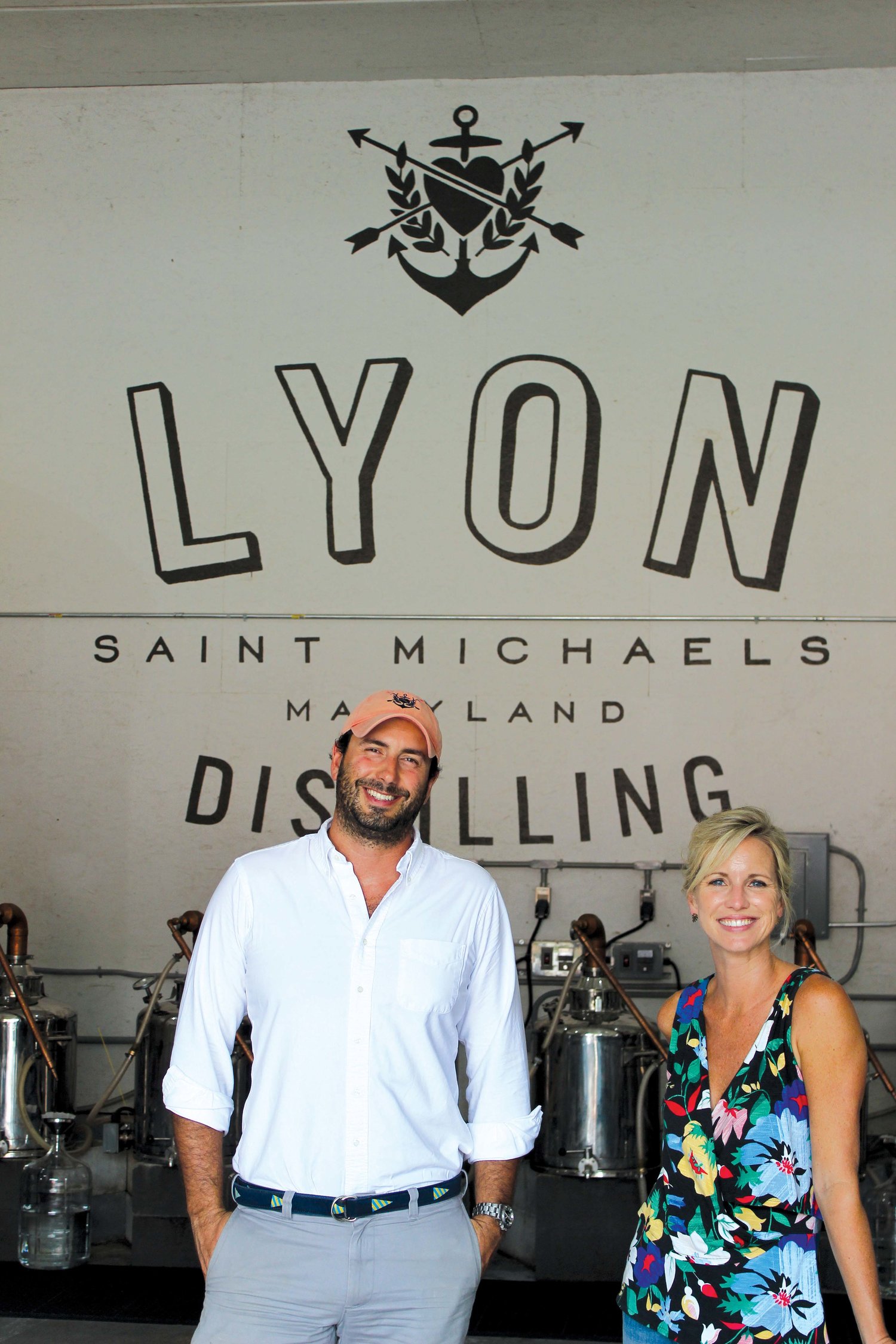 Nestled on a tranquil side street in this historic Eastern Shore town, Lyon Distilling Company, a micro operation specializing in rum and whiskey, has been in business since 2013. It's an enterprise that seems to have been written in the stars for co-founders Ben Lyon and Jaime Windon. Lyon, an avid sailor with previous distillery experience, and Windon, a former globe-trotting bartender and journalist who straight-up knows her liquor, landed in St. Michaels for a different venture. As fate would have it, a secondary idea morphed into a spirit company that is now part of the town's fabric—and feels as if it has been there all along.
Total Enterprise, Zero Compromise
After falling in love with St. Michaels, Lyon and Windon decided to realize their dream of founding a distillery. "Ben's a sailor. I like rum. Let's make rum," Windon recounts. "He's gonna make it, and I'm gonna sell it, and we're both gonna have fun and learn. It got out of control in a good way."
Lyon mentioned their plan to an acquaintance in town, and, as it happened, the gentleman had the perfect space to accommodate such a venture. Windon and Lyon set up their business in a brick and mortar home, and Lyon Distilling Company took off.
The pair—and the whole Lyon crew—worked hard and fast. What started out as the "most bootstrappy bootstrap," as Windon describes it, has quickly evolved into a venture with more people, more stills, and more distribution, currently hovering around 100 locations in the area. Whether they're tending to the maturing booze in the back room, labeling bottles well into the night, or pouring samples at events throughout the Chesapeake, Lyon, Windon and team are industrious and tireless.
The distillery's business model has always been one that was less business and more heart. "It felt like a passion project," says Windon. Whereas some might choose to focus on projections, rapid scaling, and catering only to customer demand, the company has invested heavily in creativity, letting the ingredients lead the way, and not cutting any corners. Their business acumen is on point, and while they want to make a buck, the pair is adamant that integrity remains the backbone of the endeavor.
The Goods
Lyon and Windon pride themselves on taking the ingredients and the entire process seriously, from distillation to sipping. Using small-pot stills, blending choice ingredients, and mixing things up a bit is what makes Lyon different from the other guys. It's a "traditional distillation method with a really modern take on the basis for the recipe," explains Lyon. Windon recalls slinging cocktails in the 90s, when the default was for bartenders to cover up the flavor of the liquor with juice and sugar. At Lyon, the goal is "to make a spirit that's so good that you just add the smallest amount of ingredients to it so you have this really fresh cocktail where the spirit shines," she says. Windon and Lyon know what works, but they're always looking to improve and share the love. "There's nothing cooler than making something you're proud of and want to drink and then be able to share it with someone else and say, 'Hey, I made this'," says Windon.
Neighborhood Naturals
So what's with the whole rum on the Eastern Shore thing? Turns out it's a perfect fit. From the 1600s on, and especially through prohibition, rum running was a popular adventure for Chesapeake mariners. "Rum makes sense here," she says. Paying homage to the spirit's rich heritage and honoring the St. Michaels community is deeply ingrained in the company's philosophy. "We have a working boatyard at the maritime museum. We have a whole area dedicated to working watermen. This [the distillery building] was a flour mill. There's a brewery. There's a winery. And now we're making spirits here," says Windon. And it doesn't hurt to have a co-founder who's a competitive sailor. For Windon and Lyon, their passions and lifestyles inform what they make and how they make it. "There's a very distinct sense of place in our spirits," Lyon says. "We live this life, we do these things. It's a real part of it."
Chugging Along
From a pair of entrepreneurs with two small stills to a robust team and increased production, Lyon and Windon's venture is full speed ahead. In the same way the company has progressed from producing modest artisan light and dark rums to a diverse lineup that includes Sailors Reserve, Overproof White, French-Oak Finished, Rock & Rum, Curaçao, black, and coffee rums, things are even tastier these days at Lyon Distillery with the addition of New-Make Corn Whiskey, Free-State Rye and American Malt whiskies. (We brought home a jug of the Curaçao rum).
Lyon and Windon intend to stay true to their love of quality, history and community. After all, home is where the heart is, and as Windon says, "We get to be a little booze factory, but we're surrounded by neighbors."
To find out what's shaking (and stirred) at Lyon Distilling Company, pop in for a tasting at 605 S. Talbot Street, St. Michaels, Mon-Fri :11-6; Sat: 11-7; Sun: 11-4. Private tasting and tours are available by reservation at www.lyondistilling.com