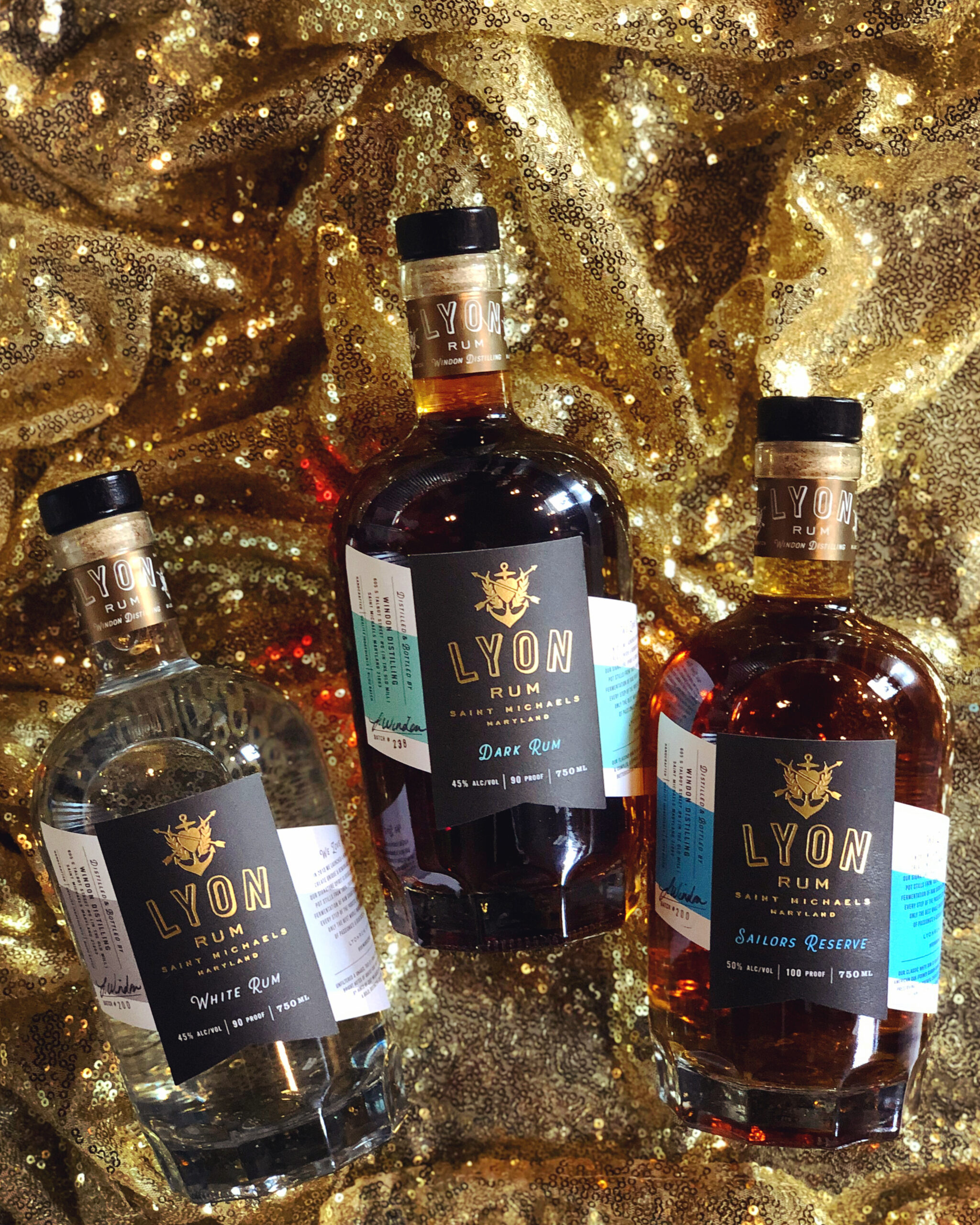 LYON WHITE RUM // 90 PROOF
LYON DARK RUM // 90 PROOF
LYON SAILORS RESERVE RUM // 100 PROOF
ROCK & RUM // 84 PROOF
CURAÇAO ORANGE LIQUEUR // 70 PROOF
COFFEE RUM // 72 PROOF

PINEAPPLE RUM // 114 PROOF *
BLACKBERRY RUM // 66 PROOF *
COCONUT RUM // 60 PROOF *
LYON MARYLAND FREE STATE RYE WHISKEY // 98 PROOF *
LYON AMERICAN MALT WHISKEY // 92 PROOF *
* Seasonal releases/distillery only, limited availability due to ultra small batch size & popularity, please call ahead *
LYON RUMS & LIQUEURS are available for sale at the distillery in Saint Michaels, and at select establishments throughout Maryland, DC, Delaware, Connecticut, Florida, New Jersey, New York & Louisiana. You may also purchase online via 1 West Dupont Circle Wines & Liquors by clicking HERE.

---
> COVID-19 UPDATE < <
During this time we are able to deliver directly to homes throughout Maryland, click HERE to order online!

---
MARYLAND LIQUOR STORES
(alphabetically by county, out of state stores listed below)
ANNE ARUNDEL COUNTY
ANNE ARUNDEL FARMERS MARKET, WED & SAT 7-12
CROFTON FARMERS MARKET, EVERY OTHER WED 3-7PM
Angel's Share, Crofton
Bay Ridge Wine & Spirits, Annapolis
BIN 201, Annapolis  
Cheers & Spirits, Arnold
Christo's Discount Liquors, Ferndale
Dawson's Liquors, Severna Park
Eastport Liquors, Eastport
Fishpaws' Marketplace, Arnold
H&B Fuller, Annapolis
Harbour Wine & Spirits, Severna Park  
Hops & Vines, Odenton
Magothy Wine & Spirits, Severna Park
Mills Fine Wine & Spirits, Annapolis
Plaza Liquors, Pasadena
Port Tack Ltd, Arnold
Preserve Wine & Spirits, Hanover
Staples Corner Liquors, Gambrills  
Total Wine (Corridor), Laurel
Waugh Chapel Village Wine, Gambrills
Whitey's Liquors, Linthicum
Wine Cellars of Annapolis, Annapolis  
BALTIMORE CITY
Canton Crossing, Canton
Lighthouse Liquors, Canton  
Quarry Wine & Spirits, Wellwood  
The Wine Source, Hampden
Wells Liquors, Baltimore
BALTIMORE COUNTY
The Breadery, Catonsville (Oella)  
Cranbrook Liquors, Cockeysville  
Fine Wine & Spirits, Timonium
Drug City Pharmacy, Baltimore  
Dulaney Wine & Spirits, Towson
5 o'clock Liquors, Owings Mills
Foundry Wine & Spirits, Owings Mills
Grape & Grain Wine & Spirits, Nottingham
Kenilworth Wine & Spirits, Towson
Liberty Wine & Spirits, Randallstown
Liquor Pump, Parkville
Oakdale Fine Wine & Spirits, Catonsville
Total Wine (Beltway Liquors), Towson
CALVERT COUNTY
Apple Greene Wine & Spirits, Dunkirk  
KenMar Liquors, Prince Frederick
Town & Country Liquors, Port Republic  
Neall's Wine & Spirits, Owings  
Nick's of Calvert, Prince Frederick
Patuxent Wine & Spirits, Lusby  
Port of Call Liquors, Solomons
Roland's of Chesapeake Station, Chesapeake Beach
Spirits & Wine of Calvert, Prince Frederick  
CAROLINE COUNTY
Bargain Beverage, Denton
Tri Me Warehouse Foods, Ridgely  
CARROLL COUNTY
Cranberry Liquors, Westminster
Esquire Liquors, Union Bridge 
Gourmet Wine & Spirits, Sykesville  
House of Liquors, Westminster
The Liquor Shoppe, Hampstead
Lisbon Liquors, Woodbine
Paddock Liquors, Woodbine
Sunny's Fine Wine & Liquor, Eldersburg  
Total Discount Liquors, Eldersburg  
CECIL COUNTY
Bennett's Liquors, Chesapeake City  
Elkton Liquor Warehouse, Elkton  
State Line, Elkton
Weavers Discount Liquors, Elkton
CHARLES COUNTY
Bob's Sonoco Beer Cave, Callaway
Colonial Liquors, La Plata
Jimmie's Paddock, White Plains
DORCHESTER COUNTY
CAMBRIDGE FARMERS MARKET, THURSDAYS 3-6PM
Best Wine & Spirits, Cambridge  
Cambridge Market, Cambridge  
Cambridge Wine & Spirits, Cambridge
FREDERICK COUNTY
Lakefront Wine & Spirits, Frederick  
Mt. Airy Liquors, My. Airy
Mountaindale Convenience Store, Thurmont  
Orion Wine & Spirits, Frederick  
Spring Ridge Liquors, Frederick
Riverside Liquors, Frederick
GARRETT COUNTY
Chestnut Ridge Gas & Liquors, Grantsville
HARFORD COUNTY
Beards Hill Liquors, Aberdeen
Bel Air Liquors, Bel Air
Cliff's Cut Rate Liquors, Darlington
Friendship Wine & Liquor, Abingdon
Ice House Liquors, Aberdeen
Post Road Liquors, Havre de Grace  
Ronnie's Beverage Warehouse, Forest Hill
Wine World, Abingdon
HOWARD COUNTY
Absolutely Wine or Spirits, Columbia
Allview Liquors, Ellicott City  
Cindy's Spirits, Elkridge  
Dorsey's Search Wine & Spirits, Ellicott City
Friendship Liquors, West Friendship 
Glenwood Wine & Spirits, Glenwood  
Jasons Liquors, Ellicott City
Kings Contrivance Liquor and Smoke Shop, Columbia  
Lisbon Liquors, Lisbon  
Normandy Wine & Spirits, Ellicott City
The Perfect Pour, Elkridge
Red: Wine, Beer & Spirits, Clarksville
Paddock Wine & Spirits, Woodbine  
Preserve Wine & Spirits, Hanover  
The Wine Bin, Ellicott City
KENT COUNTY
Don Tonio's, Chestertown
LTO Bottle Shop, Chestertown
Pip's Liquors, Chestertown 

MONTGOMERY COUNTY
*NOW AVAILABLE AT ALL ABS STORES*
PRINCE GEORGE'S COUNTY
RIVERDALE PARK FARMERS MARKET, EVERY OTHER THUR 3-7PM
Crescent Wine & Spirits, Bowie  
Hilltop Wine & Spirits, Bowie
Laurel Beer, Wine & Spirits, Laurel
Rips Country Inn, Bowie
Town Center Market, Riverdale
Tubbys Liquors, Laurel
Woodmore Wine & Spirits, Lanham
QUEEN ANNE COUNTY
KENT ISLAND FARMERS MARKET, THURSDAYS 3:30-6:30PM
Bakers Liquors, Chester
Bennett Point General Store, Queenstown  
Centreville Liquors, Centreville
Draper Bros., Centreville
Friendly Food & Gulf, Stevensville
Hillside Market & Liquors, Centreville
Kent Towne Liquors, Chester
Love Point Deli, Stevensville  
Winchester Liquors, Grasonville
The Winery, Chester
ST MARY'S COUNTY
Blue Wind Gourmet, California
California Wine & Spirits, California
Elements Eatery & Mixology, Lexington Park
International Beverage, Lexington Park
Social on Fenwick, Leonardtown
TALBOT COUNTY
EASTON FARMERS MARKET, SATURDAYS 8-1PM
ST MICHAELS FARMERS MARKET, SAT 8:30-11:30AM
Grauls Market, St. Michaels
Hair O' the Dog, Easton
Harrisons Wine & Spirits, Easton
Oxford Market, Oxford
Tilghman Island Country Store, Tilghman Island
Town & Country, Easton
Village Shoppe, St. Michaels
Wishing Well Liquors, Easton
WASHINGTON COUNTY
Benny's2Go, Hagerstown
Liquor Locker, Hagerstown
Long Meadow Wine & Liquor, Hagerstown
Wooden Keg, Hagerstown 
WICOMICO COUNTY
Wicomico Wine & Spirits Store #1 (Next to Acme), Salisbury
Wicomico Wine & Spirits Store #2 (Mill Pond), Salisbury  
WORCESTER COUNTY
OCEAN PINES FARMERS MARKET, SATURDAYS 8-1PM
BERLIN FARMERS MARKET, SUNDAYS 9-1PM
Anthony's Liquors, Ocean City
Atlantic Beverage, Ocean City
Berlin Liquors, Berlin
Liquid Assets, Ocean City
Pitt Stop, Berlin
Rita's World of Wine, Ocean Pines  
Town Market Basket, Snow Hill
West O Bottle Shop & Bar, Ocean City
DC LIQUOR STORES:
1 West Dupont Wines & Spirits, 2012 P St NW
A1 Wine & Liquors, 1420 K St NW
Angels Share Wine & Liquors, 1748 7th St NW
Barmy Wines & Liquors, 1912 L St NW
Batch 13, 1724 14th St NW
Bloomingdale Liquors, 1836 1st St NW
Calvert Woodley Wine & Liquor, 4339 Connecticut Ave NW
Central Liquors, 625 E St NW
Chat's Liquors, 503 8th St SE
Chevy Chase Wine & Spirits, 5544 Connecticut Ave NW
D'Vines, 3103 14th St NW
Dixie Liquor, 3429 M St NW
Downtown Liquors, 3712 14th St NW
Gallagher & Graham Fine Spirits, 1939 12th St NW
Georgetown Wine & Spirits, 1500 27th St NW
Hop, Cask & Barrel, 1717 Wisconsin Ave NW
Imperial Wine & Spirits, 1050 17th St NW
Modern Liquors, 901 M St NW
Morris Miller Wines & Liquors, 7804 Alaska Ave NW
S&R Liquors, 1015 18th St NW
Sherry's Wine and Spirits, 2627 Connecticut Ave NW
Pearson's Wine & Spirits, 2436 Wisconsin Ave NW
Weygandt Wines, 3519 Connecticut Ave NW
DELAWARE LIQUOR STORES:
Atlantic Liquors, Rehoboth
Big Liquor Shop, Selbyville
Bridgeville Discount Liquors, Bridgeville
Brindle Bit Liquors, Harrington
Buyville Package, Selbyville
Cape Wine & Spirits, Lewes
Franks Wine Beer & Spirits, Wilmington
Hickman Package, Oceanview
Liquid Assets, Seaford
Liquor Depot, Dover 
Liquor Land, Seaford
M & M Liquors, Milford
Midway Discount Liquor, Harrington
Milford Discount Liquors, Milford
Nylon Package Store, Seaford
O' Neils Liquor Store, Milford
One Liquor Stop Mart, Georgetown
Outlet Liquors, Rehoboth
Rt 9 Liquors, Georgetown
Swigg, Wilmington
Tax Free Liquors, Delmar
Total Wine, Claymont  

CONNECTICUT LIQUOR STORES:
Al's Warehouse, Fairfield
Al's Warehouse, Norwalk
Al's Warehouse, Trumbull
Branford Wine & Liquor, Branford
Buy-Rite Liquors, Wethersfield  
Cask 'N Keg, Mystic
Castle Wine & Spirits, Westport
Cindy's Fine Wine & Spirits, Westbrook
Cos Cob Liquors, Greenwich
CT Beverage Mart, Newington  
CT Beverage Mart, Wallingford  
Fairway Wine & Spirits, Stamford
Groton Discount Liquors, Groton  
La Bella Vita Wines, New Haven
Manousos Wine & Liquors, Wethersfield  
Mountain Road Wine & Spirits, Seymour  
New England Beverage Co, Milford
Ninety9Bottles, Norwalk
Ninety9Bottles, Trumbull
Ninety9Bottles, Westport
No.109 Cheese & Wine, Ridgefield
Plaza Wine & Spirits, Newington  
Randy's Wines, Greenwich
Stateline Discount Liquors, North Stonington
Thames River Wine & Spirits, New London  
That's the Spirit, Fairfield
Total Wine & More (all locations, Dark Rum only)
Universal Package Store, Mystic
Universal Package Store, New London
Universal Package Store, Noank
Val's Putnam Wine & Liquor, Greenwich
Westbrook Package Store, Westbrook
Wine & Beyond, Norwalk
Wine Market, Oxford  
FLORIDA LIQUOR STORES:
Brandon Cross Liquors, Tampa *NEW*
Holiday Liqours, Sarasota *NEW*
Kenny's Liquors, Riverview *NEW*
Kenny's Liquors, New Smyrna Beach *NEW*
Liquor Locker, Sarasota *NEW*
Liquor Warehouse, Leesburg *NEW*
Oviedo Fine Wine & Spirits, Oviedo *NEW*
Star Liquor, Brandon *NEW*
Star Liquor, Pavilion *NEW*
Star Liquor, Big Bend *NEW*
Sunshine Liquors, Palm Harbor *NEW*
Whiskey Willy's, Tampa *NEW*
Winthrop Liquors, Riverview *NEW*
LOUISIANA LIQUOR STORES:
Calandro's Select Cellars, Baton Rouge *NEW*
Dorignac's, Metairie *NEW*
Cuban Liquors, Shreveport *NEW*
Hokus Pokus Liquors, Prairieville *NEW*
Hokus Pokus Liquors, Lake Charles *NEW*
Grande Krewe, New Orleans *NEW*
Maggio's Liquors, Natchitoches *NEW*
Next to Nothing Wines, New Orleans *NEW*
Nor-Joe Imports, Metairie *NEW*
Prytania Wine & Spirits, New Orleans *NEW*
Ralph's Market, Gonzales *NEW*
Rouses Markets (select stores – ask for it!) *NEW*
NEW JERSEY LIQUOR STORES
Benash Liquors, Cherry Hill *NEW*
Bethany Wines & Liquors, South Hazlet *NEW*
Buy Best Wines & Liquors, Hamilton *NEW*
Canal's, Mt. Ephraim *NEW*
Canal's Bottlestop, Marlton *NEW*
Cheers Wine & Spirits, Voorhees *NEW*
Circus Wines Beer & Spirits, Middletown *NEW*
Cottage Liquor, Newark *NEW*
Crates Liquor, Red Bank *NEW*
Eight & Driggs Wine & Liquor, Brooklyn *NEW*
Foodtown Liquors, Red Bank *NEW*
Foodtown Liquors, Monmouth *NEW*
Gerard's Liquors, Point Pleasant *NEW*
Joe Canal's, Marlton *NEW*
Kings Grant Wines & Liquors, Marlton *NEW*
Lavalette Liquors, Lavalette *NEW*
Little Brother's Discount Liquors, Flemington *NEW*
Lush Wines, Asbury Park *NEW*
Ridgeway Liquors, Manchester *NEW*
Martin's Liquors, Mt. Laurel *NEW*
Roger Wilco, Pennsauken *NEW*
Shell Liquors, Ship Bottom *NEW*
ShopRite Liquors, Byram *NEW*
Spirit of '76, Manasquan *NEW*
Spirits Unlimited, (Fischer) Toms River *NEW*
Spirits Unlimited (Lakewood), Toms River *NEW*
Spirits Unlimited, Ortley Beach *NEW*
Super Cellars, Ridgewood *NEW*
Traino's Wine & Sprits, Evesham *NEW*
Wanamassa Liquors, Wanamassa *NEW*
White Eagle, Riverside *NEW*
Wine O Land, Howell *NEW*
Wine O Land, Jackson *NEW*
Wine O Land, Howell *NEW*
Wine O Land, South Howell *NEW*
Wine O Land, Edison *NEW*
Wine Spot, North Bergen *NEW*
Wine Republic, Hamilton *NEW*
>> WINE.COM <<

NEW YORK LIQUOR STORES
7th Avenue Wine & Liquor Co, Brooklyn *NEW*
Bedford Wines & Spirits, Brooklyn *NEW*
Bondi Wines & Spirits, Brooklyn *NEW*
Bottoms Up, Brooklyn *NEW*
Grape Expectations, Tarrytown *NEW*
Grapepoint Wines, Brooklyn *NEW*
Little Mo Wine & Spirits, Brooklyn *NEW*
MarketView Liquors, Rochester *NEW*
ShopRite Liquors of Pearl River, Pearl River *NEW*
Some Good Wine, Greenwich Village *NEW*
*LYON RUM has a W8 Wholesale License to self-distribute spirits in the state of Maryland.
MD WHOLESALE INQUIRIES PLEASE CLICK HERE or // 443.333.9181
CONNECTICUT // Contact: HIGHLAND IMPORTS // (203) 538-6818
WASHINGTON DC & DELAWARE // Contact: CRAFT WINE & SPIRITS // 202.803.6070

FLORIDA // Contact: DRINK GOOD LIQUOR //  (813) 773-6655
LOUISIANA // Contact: MYSTIC VINES //  (318) 965-6709
NEW JERSEY, NEW YORK // Contact: REGAL WINE //  (856) 985-6388