THE STAR DEMOCRAT
December 10, 2017
By Connie Connolly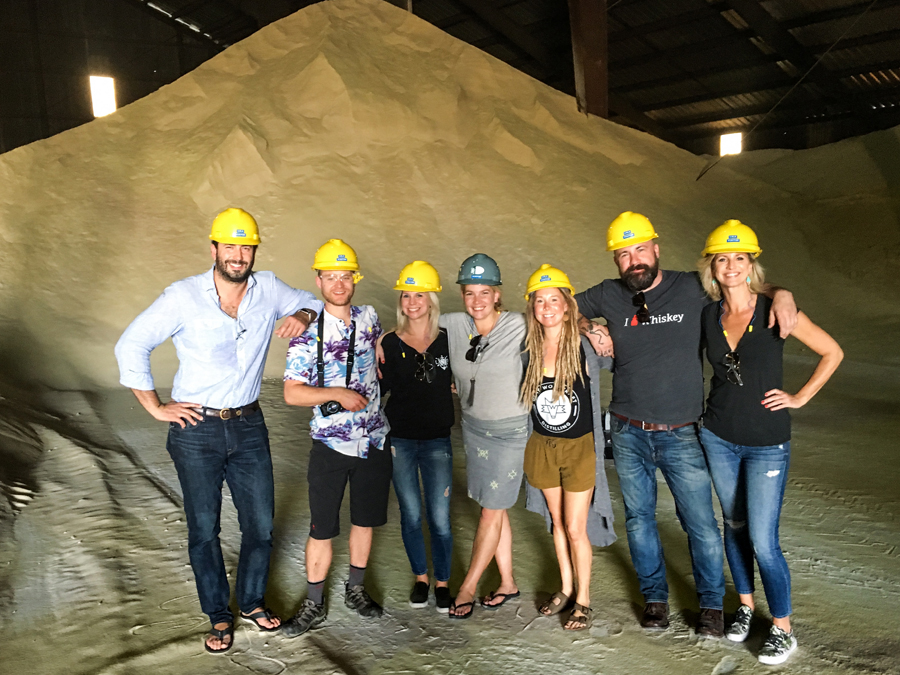 ST. MICHAELS — Visions of sugar cane still are dancing in the heads of Lyon Distilling Company's team, which flew south to see how the sweet stuff that flavors their rums is grown and processed.
Owner Jaime Windon took her team to Belle Rose, La., for a four-day research jaunt Nov. 12 to 15 to the sugar cane fields and processing factory, a 90-minute drive west of New Orleans.
"It was such a cool trip," Courtney Gorman said. "We're so excited in all the photos throughout the factory; we look like these big dorks, but I'm like, how many people get to see a huge manufacturing factory — it was something straight out of London in the '30s."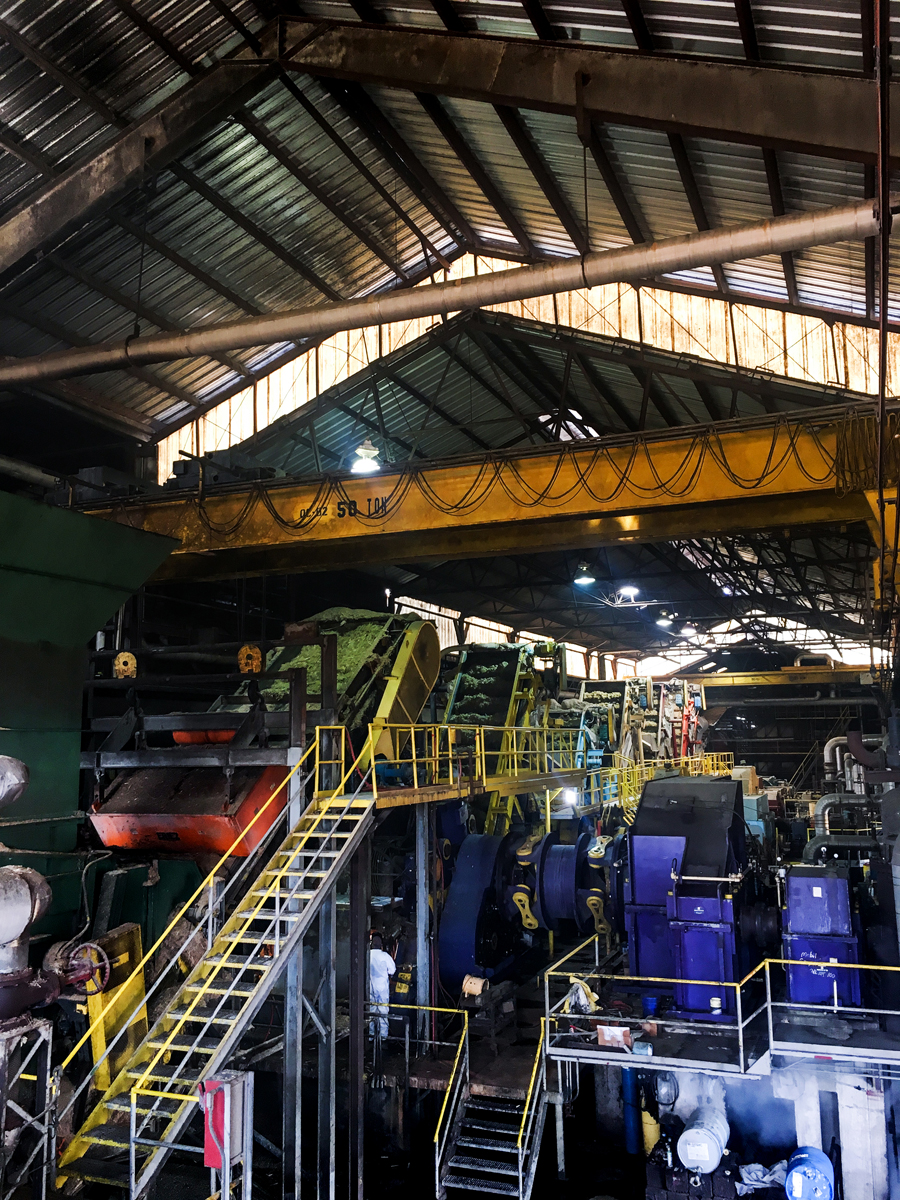 The field trip began in New Orleans, "the birthplace of the cocktail," Windon said. "All the classics (are served) in very specific bars, like the Sazerac Bar for a proper gin fizz. Cocktails that are not always rum-based are having a really great resurgence now in the craft cocktail world."
"There are ways you can take a classic like a gin cocktail and substitute a really neat rum," Windon said. "We came back and experimented with rum fizzes."
Windon's St. Michaels company distills craft whiskey and rum. The company celebrated its fourth anniversary on Dec. 7.
Windon also is president of the Maryland Distillers Guild and serves as a St. Michaels town commissioner.
"It's nice to cocktail together, because as much as we all work together every day in a booze factory, we don't drink nearly as much as people think we do because we're on the clock, we're working. We don't run a bar here; we run a tasting bar," Windon said.
"The number one question we get is 'Where does your sugar come from?'" Windon said.
For her team, the highlight of their research was the field trip to 55,000 acres of sugar cane fields and the Lula sugar mill plunked down in the middle of them.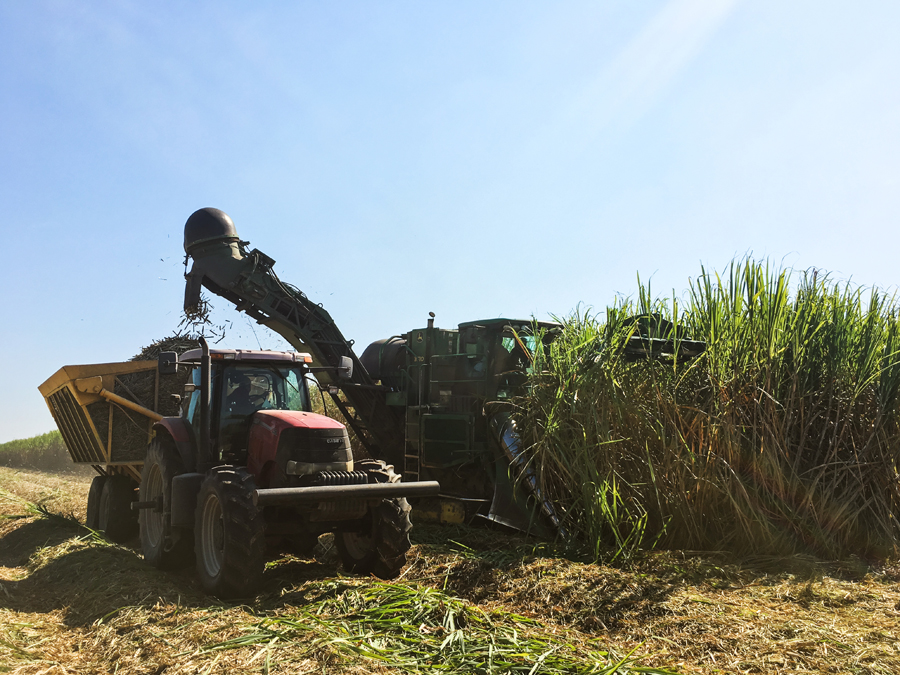 The mill is one of two factories called Lula-Westfield LLC, owned by members of three families who began raising and milling sugar cane in the area in the 1800s.
"Ours is one of 11 remaining sugar mills, [down from] dozens and dozens, and Lula and Westfield have been together and family-owned and operated for 150 years," Windon said.
"I found them because they were accredited through the American Distilling Institute. (The distillery industry is) a super small sector for them," she said.
"I go down to New Orleans a lot, and for the last decade or so, we've gone to a cocktail convention called Tales of the Cocktail every July. It's a place for big brands and small brands to showcase, to learn, meet and connect," Windon said.
"Last July, I drove out on a whim to Lula because I was dying to shake hands with the people I do business with, and we all hit it off fabulously," Windon said. She has been using the Lula-manufactured sugar for about three years.
"And they said, you really need to come back during harvest season because there's really not much to see right now except sugar cane growing in the field," Windon said.
The sugar cane Lula Factory processes is harvested in a three-month window between Oct. 1 and Dec. 30.
"We can get local corn and grain, but we can't get local sugar cane. It has to be grown in a tropical environment. It can be grown (in the deep South) in the United States, but you have to start harvesting it in October," Windon said.
"You have 55,000 acres (around Belle Rose) that you have to chop and press and process. You don't want to chop it all on Oct. 1, but you don't want to chop it all on Dec. 1 either, because you won't have time to process it all before it freezes. So that's why the season is short, and that's why it's considered an immature crop. It (doesn't affect taste), it just affects the content of actual sugar," she said.
The statistics about the sugar cane farms and their production impressed Windon.
"Those 55,000 acres that supply the mill each year produce 1.95 million tons of cane," Windon said, reading her notes. "That cane turns into 460 million pounds of raw, unrefined sugar, which usually ends up going to the sugar refinery."
"They said, you gotta come back because we don't even have the mill set up (in July)," she said. "In the off-season, they break it down, clean it and put it back together again. It's just a massive, massive factory."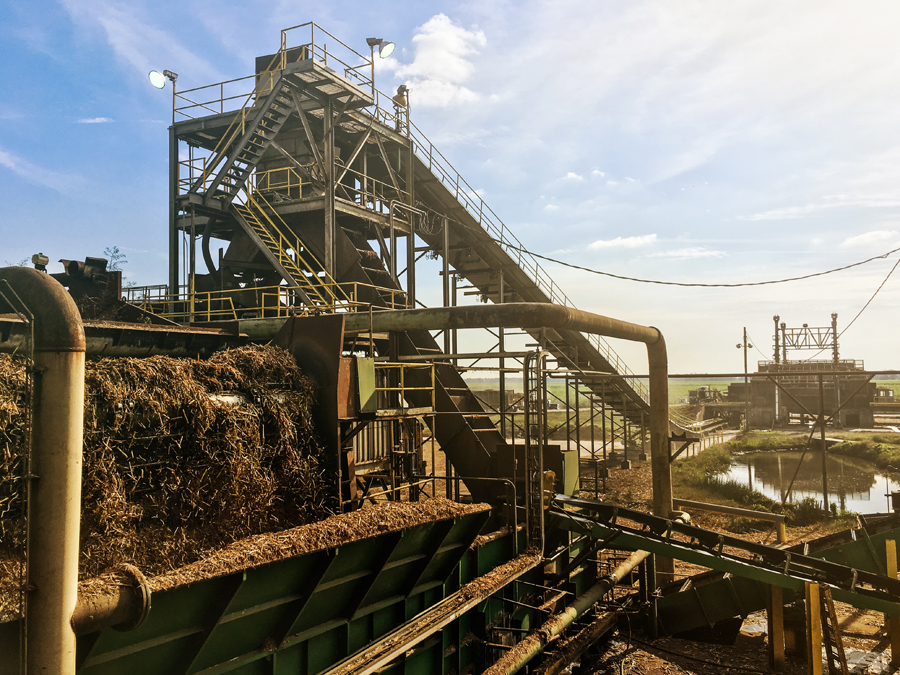 "So I got back here, [and thought], how many people can I take?" Windon said.
"We probably are going use 10 to 20 thousand gallons of molasses a year, but they're making 8.6 million gallons," Windon said. "Yet, when we went down there, they treated us like royalty."
"The whole day, they let us crawl over everything, in and out of control rooms, down in the boiler room, meeting everybody, everyone shaking every one of my team's hands," Windon said.
"It was rough and dirty and stinky. It was hot and so freakin' cool. It was awesome. It was just to see how it all gets done," Gorman said. "And then (we spent) a day at one of the small farms, riding the combine and driving the tractors."
The team made fast friends with the owners of D & R Blanchard Farms, Dale and Rusty "Bubba" Blanchard.
"Friendships were formed, T-shirts and hats exchanged." Windon said. "Everyone immediately became Facebook friends. Courtney and Dale were soulmates."
"That's my best friend," Courtney said. "Dale let me keep my hard hat."
Windon said Gorman wanted to cut the cane by hand, "so they got her an old-school cane knife" and showed her how.
"When we all went to lunch, it was such a wonderful experience to sit and watch my team interspersed with the farmers that cut the cane, the engineers that organize and work at the mill, every step of the process," Windon said.
"And then for (Sarah Schorr) to say, 'Well, I label every bottle of that rum,' and Brett (Steigerwaldt) to say, 'I do all the infusions' — that for me was the most incredible part of the trip — just that connection and the fact that everyone was so interested in what everyone else did," she said.
"I had an incredible time; it was one of the coolest things I've ever done," Schorr said. Schorr grew up in rural Caroline County, but she said the trip "put together the remaining pieces of the puzzle — meeting the people and seeing how they create things from real ingredients."
An engineer by training, Steigerwaldt said the trip was "absolutely fantastic. I mean, who does that?"
The "master of booze infusion" of Lyon Distilling said he had no idea what to expect, but after touring the Lula factory," Steigerwaldt said. "I have absolute confidence in the quality of our product."
"I'm going to do business with the best people," Windon said. "It has to be the best, and if it's also local, that's a bonus. I consider myself a global citizen — I've lived all over the world — but I look local first, and then I go out."
"I think it's important to use American-grown ingredients in American spirits. I don't think that it's necessary, but I like that my sugar is grown in the United States. I like to be able to get on a plane and get somewhere quickly and support other American businesses. I see them as colleagues," Windon said.
Nevertheless, Windon said, "If the sugar cane or the molasses wasn't good, I would have no qualms looking to Colombia or Belize."
Going outside the country, however, would increase her shipping costs, "and I try to minimize our negative impact and our footprint and our waste," Windon said.
"Louisiana is basically the closest you can ship sugar cane," she said. "I have a huge place in my heart for Louisiana and the people of Louisiana. They are just kind, friendly, good. They're good-energy people, loyal, hardworking. So there was a good synergy," she said.
The company that supplies Smucker's with sugar for their jellies and jams started supplying Lyon Distilling Company's sugar products for their rum three years ago.
"Our first year of business, we were so small I could drive up to Baltimore, purchase molasses, put it in my car in 5-gallon drums, come back and make rum," Windon said.
"Now, we get orders of 30,000 pounds of sugar every other month or so as an average delivery, and it's a hybrid of sugar and molasses," she said. "As cane is processed, the byproduct is molasses. It's technically an industrial byproduct, but it has great uses. It still has protein, sugar content, oils and flavor."
"A lot of (Lula's) molasses goes into feed for livestock and animals, but usually that's what rum was always made of, originally. Rum is made up of any sugar derivative, but molasses is the cheapest ingredient," Windon explained.
"It was interesting for the staff to understand what the difference is between the sugar cane stalk, juice, crystal, refined sugar, molasses, brown sugar," Windon said.
"There was a point when we were walking through the mill, and we were at one of the pressing stations, and I heard someone say, 'This smells exactly like our rum,' and so there you go. The raw ingredients matter. The whole place smelled like our rum, to be honest with you," Windon said.
"Because we don't use just molasses, we use sugar cane and molasses, you get this really unique nose on our rum and that's what the fresh sugar cane is," she said.
"We want that raw sugar because it has that sugar cane juice in it. It's real funky and delicious," Windon said.
"It's like damp sand. It's more raw than sugar in the raw, and it has a funky, robust, grassy aroma and flavor, which gives our rum a really unique edge and a sense of terroir that is usually reserved for wines," she said.
Merriam-Webster defines terroir as "the combination of factors including soil, climate, and sunlight that gives wine grapes their distinctive character."
"You don't talk about terroir in spirits so much, but in rum like ours, you can really taste the earth; our rum smells grassy," Windon said as she gestured with her left hand as if she were feeling the texture of fabric.
"There's just so much robust flavor to our white rum that you don't get (in other rums). Usually, white rum is considered just a base spirit, but ours really stands out. Someone said (at one of the sugar presses), it smells just like our rum," Windon said. "It's the sugar cane — it's so intense and aromatic and unique."
"Distilleries are not a huge client for (Lula Factory and their affiliated farmers), but they're very proud of the work they do with us because (we produce) a tangible product," Windon said. "And for Dale and Bubba, toiling in the field from dawn 'til dusk to make their haul for the day — they're removed from it. Once they cut the cane, they're done."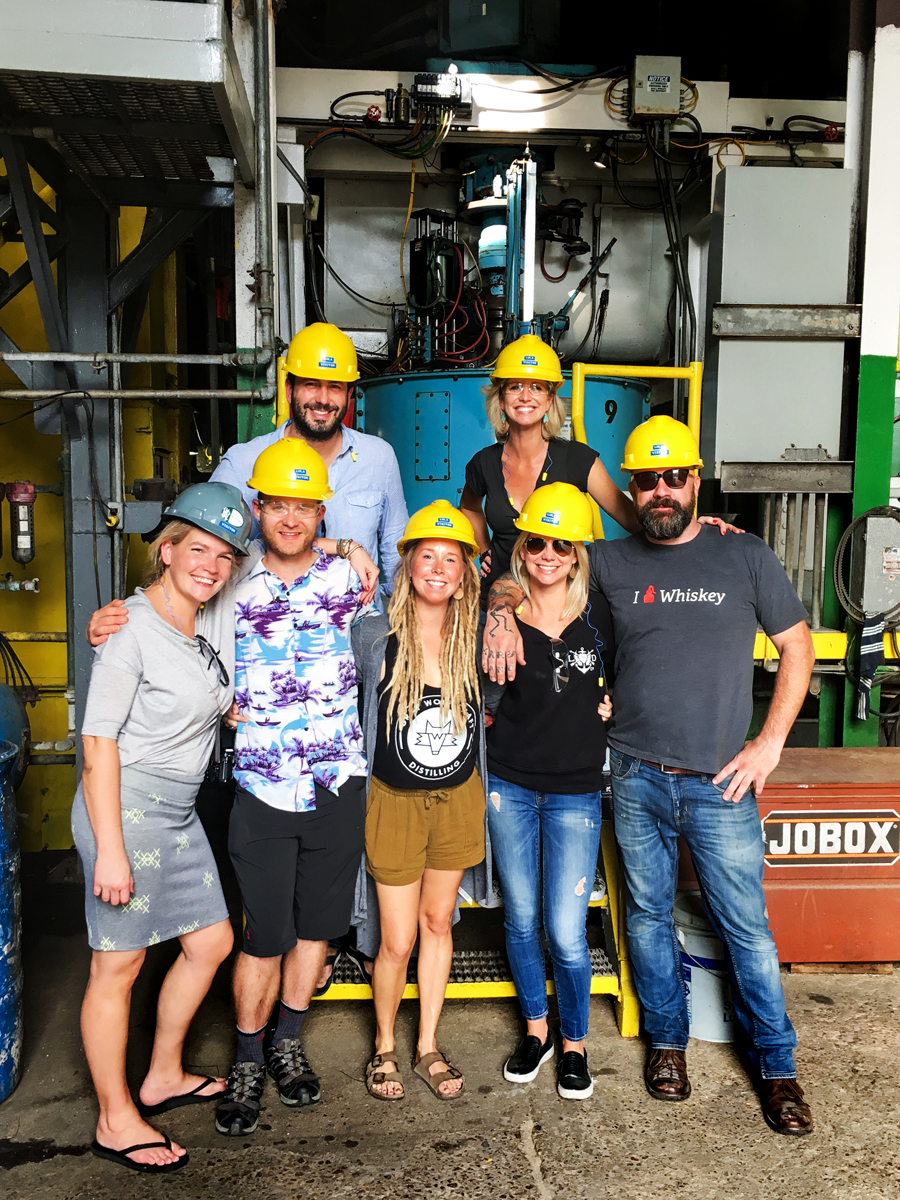 "And then a crazy team of seven people from Maryland come down and put rum on your desk that started as your sugar. That was really cool for them. It was really fun for them to see the end product," Windon said.
"The thing we all enjoy here, and that I think that our customers and friends and family resonate with, is that at the end of the day, we made this, from start to finish," Windon said, holding a bottle of the rum produced by her company. "It was a pile of sugar and a tote of molasses, and at the end of the day, it's this."
FULL ARTICLE HERE