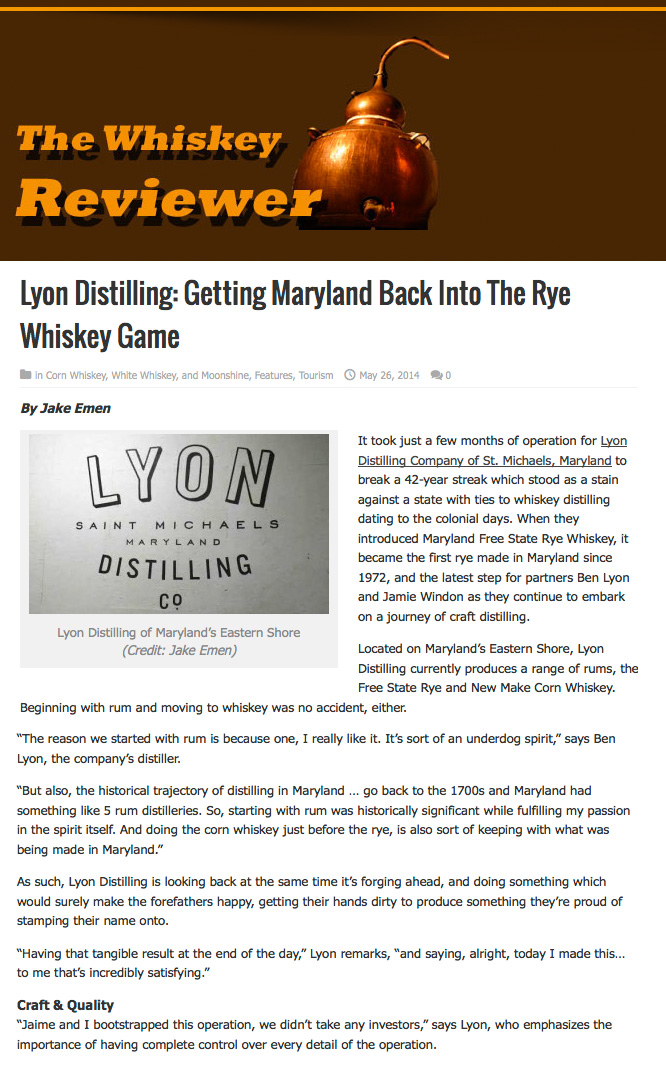 Whiskey Reviewer, May 26, 2014
By Jake Emen
Lyon Distilling | Getting Maryland Back Into The Rye Whiskey Game
It took just a few months of operation for Lyon Distilling Company of St. Michaels, Maryland to break a 42-year streak which stood as a stain against a state with ties to whiskey distilling dating to the colonial days. When they introduced Maryland Free State Rye Whiskey, it became the first rye made in Maryland since 1972, and the latest step for partners Ben Lyon and Jamie Windon as they continue to embark on a journey of craft distilling.
Located on Maryland's Eastern Shore, Lyon Distilling currently produces a range of rums, the Free State Rye and New Make Corn Whiskey. Beginning with rum and moving to whiskey was no accident, either.
"The reason we started with rum is because one, I really like it. It's sort of an underdog spirit," says Ben Lyon, the company's distiller.
"But also, the historical trajectory of distilling in Maryland … go back to the 1700s and Maryland had something like 5 rum distilleries. So, starting with rum was historically significant while fulfilling my passion in the spirit itself. And doing the corn whiskey just before the rye, is also sort of keeping with what was being made in Maryland."
As such, Lyon Distilling is looking back at the same time it's forging ahead, and doing something which would surely make the forefathers happy, getting their hands dirty to produce something they're proud of stamping their name onto.
"Having that tangible result at the end of the day," Lyon remarks, "and saying, alright, today I made this… to me that's incredibly satisfying."
Craft & Quality
"Jaime and I bootstrapped this operation, we didn't take any investors," says Lyon, who emphasizes the importance of having complete control over every detail of the operation.
There's nobody to tell him what to do, how to do it, or what to experiment with. The only pressure is on himself, to continue putting out quality products and to meet a growing demand.
That means there's more than a few all nighters spent in the back room, mashing and fermenting and distilling and bottling, all in a quest to actually get bottles on the shelf by the time the next batch of tourists browsing antique stores and boutique shops descend upon Talbot Street, the quaint main drag of St. Michaels, the following weekend.
Currently, Lyon utilizes three 26-gallon traditional pot stills, offering a setup which is ideal for a one-man operation, and his exacting eye for detail, quality and tinkering.
"They're electrically fired, so the second you make an adjustment, because of the size, that instantaneous change of temperature occurs, and there are lots of little variables you can control with that," Lyon shares.
"It's a super efficient setup. I have the ability to do really small batches, or, we'll run them in sequence, and we have almost 100 gallons total of distillation capacity."
Lyon actually honed his craft on a custom-built 150-gallon Kothe still, but loves the quality and precision offered by his current setup. Of course, it also helped to keep investment costs down, as larger stills can become exponentially more expensive.
Two more 26-gallon stills should be arriving within the next few months to help increase output, although new fermenters would be an even bigger help. They currently have about half a dozen open-fermentation 55-gallon drums, but he has his eye on a few 500-gallon fermenters which would help him ramp up the process significantly.
As it stands, production is between 100 and 150 bottles per week, across their entire family of rums and whiskeys. Lyon finishes a batch, and a few days later it's gone.
The Spirits
Named in honor of Maryland's refusal to pass state enforcement laws in support of the Prohibition era Volstead Act, Free State Rye offers a mash bill of 55% rye, 35% corn and 10% malted barley. It's making its debut as an unaged white whiskey. Lightly-aged versions are to come, utilizing tiny 1-gallon charred new American oak barrels.
Free State Rye offers a buttery profile, almost popcorn-like in flavor. It's far from traditional, and doesn't have the spice you might expect from a rye, nor the bite you might expect from a white whiskey. It's also an interesting counterpoint to the floral, citrusy Mosby's Spirit from their relatively nearby neighbors in Virginia, Catoctin Creek.
While the aged renditions aren't yet available for sale, during my visit there happened to be a bit of 1-month aged Free State Rye available for sampling straight from the barrel. Here, there's a more classic rye profile with some sharper spice, and notes of rye grain. Another few months in there should certainly do it some good.
Lyon's New Make Corn Whiskey is made from locally sourced organic corn and malted barley with a mash bill of 90% corn, 8% malted barley and 2% rye. It's bottled basically fresh off the stills, spending just 18 hours in a barrel. This provides the faintest touch of wood and vanilla to the whiskey, but also means it could technically be called a bourbon as well.
For Lyon, he managed to even surprise and impress himself with the New Make Corn, which is easy-sipping and smooth, and best enjoyed neat.
"I really like our rye, but I'm almost more proud of the corn whiskey," he says. "It has depth and character unlike any other corn whiskey I've had.
"I really like what we've done with that, and to surprise people, and yourself, that's part of the fun. You can get these wild spirits which are unlike anything out there… that's what this is all about, doing it in small batches, we're not every day of the week trying to churn out 'textbook perfect bourbon' or anything else."
What's Next at Lyon Distilling?
In the future, expect limoncello, gin, and various other experimental products and future surprises to be available as well. For example, they're planning on distilling the beers of several local breweries.
A wholesale license is also in the works, and Lyon expects restaurants from D.C. to Annapolis to keep their rum and whiskey behind the bar. But there are no hard and fast goals for production increases, and Lyon never wants to lose his total control, along with his license to experiment and tweak and fine-tune.
"I want to be able to service those outlets," Lyon says, "but I always want this to be the operation where I have my hands on every part of the process. When you start to have somebody else doing fermentations or this or that, it changes. It totally changes."
Of course, Lyon Distilling has only been open for a few months. With new stills and fermentation barrels in the works, the growth will come. There's time for that, and it's going to be interesting to see where they are in a year or two, and what some of these spirits and projects turn into.
Plenty of companies claim to emphasize Lyon's dedication to handcrafted quality and his attention to detail, but few actually stick to it. For now, if their small-batch status means they sell out by the time you visit the distillery – and they are indeed constantly selling out of their limited supply – well, so be it. Quality and craft are the only priorities here.
Visiting
If you're planning a trip out to the Eastern Shore distillery, be sure to call in advance and see if they have any of the Free State Rye or New Make Corn, or whatever else you're into, on hand. It goes quickly.
Visitors can stop by anytime between 12 and 6, and you can pop on back to get the tour and see the stills, and try some free tastings. One concession to that expected growth may be a more limited time for tours in the future.