LYON DISTILLING RANKED 2ND AMONG U.S. RUM DISTILLERIES
October, 4, 2019, St. Michaels, MD – Lyon Distilling Company is ranked as one of the Top 10 American Craft Rum Distilleries for the third year in a row. A panel of experts selected 20 nominees, and the winners were determined by popular vote in the USA Today 10Best Readers' Choice annual nationwide contest. In 2017 LDC placed 4th; in 2018, 5th; and this year rose to the number 2 spot. Lyon Distilling is honored to be recognized by industry leaders and rum experts for making remarkable American Rum, and grateful to all the rum aficionados and fans that voted. CEO & owner Jaime Windon says the LDC team is overjoyed with the win, and incredibly proud to make rum on the Eastern Shore of Maryland for the last six years. "We couldn't be happier with the rum love and support that we receive from the local community and beyond," says Windon. "We are in good company with our fellow American rum producers, and congratulate everyone that made this year's list."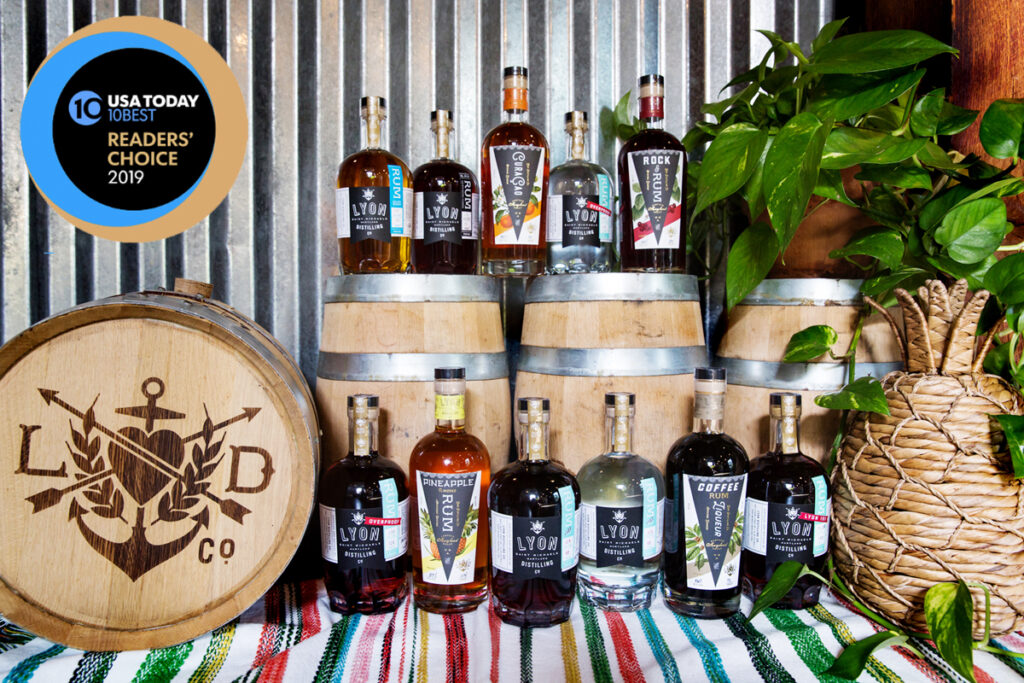 2019 USAToday Best Craft Rum Distillery winners:
Wicked Dolphin – Cape Coral, Fla.
Lyon Distilling Company – St. Michaels, Md.
Arizona Craft Beverage – Elgin, Ariz.
Cardinal Spirits – Bloomington, Ind.
KoHana Distillers – Kunia Camp, Hawaii
Koloa Rum Company – Lihue, Hawaii
Roulaison Distilling Co. – New Orleans
Bear Creek Distillery – Denver
Newport Craft Brewing + Distilling Co. – Newport, R.I.
Drum Circle Distilling – Sarasota, Fla.
THE EXPERTS

In 2012 Brian Christensen founded Artisan Spirit Magazine with a close group of friends to celebrate the art and science of craft distilling. It quickly grew to become the largest and most respected trade journal for distilling in America. Brian works with distillers, suppliers, industry associations and enthusiasts to tell stories that both inform, entertain and educate. He is passionate about distilling education and consumer outreach. Brian sits on several advisor boards and committees within the distilling industry, as well as acting as judging coordinator and spirits judge for numerous craft spirits competitions.
Wayne Curtis is the author of "And a Bottle of Rum: A History of the New World in Ten Cocktails," which was updated and re-released in 2018. He has written about cocktails, spirits, travel, and history for many publications, including The Atlantic, New York Times, and The Wall Street Journal. He currently covers spirits and cocktails for The Daily Beast, Garden & Gun, Spirited, Distiller, and 750 Daily. He lives in New Orleans except during the yellow fever.
Ziggy Eschliman is among America's most enthusiastic, authoritative and entertaining libation experts. For 23 years, Ziggy has set and reported trends in wine, spirits and all things to imbibe. Her wine country lifestyle brand, ZigStyle, embraces the art of life, entertaining, cocktails, wine and gardening. Her award winning radio shows have a long time loyal following and are broadcast on FM stations and stream worldwide. Her writings are featured in lifestyle and libation based publications. She is a lead judge in international spirits and wine competitions. Ziggy is a dynamic guest speaker, educator and presenter. ZigStyle is embraced in all she does and is a welcome, catching organic approach to our busy lives.
Eric Grossman is a travel and food writer who has visited more than 50 countries. Always up for an adventure, Eric is constantly searching for new and inspiring experiences, with a keen interest in luxury travel and urban exploration. Memorable experiences have run the gamut from discussing the future of food with Ferran Adrià to sharing a stage with Coldplay.
Jack Robertiello has worked with or written about spirits, wine, food and restaurants for most of his adult life, for many publications. He speaks frequently at conferences and meetings, and judges at numerous competitions, including the annual San Francisco World Spirits Competition. Robertiello also gives private classes and seminars on tasting wine and spirits, and has advised producers, importers, marketers and publicists about the field. He lives in Brooklyn, NY.