STORY BY Martha Thomas PHOTOGRAPHY BY Mary C. Gardella
You're excused if, heading back across the bay after visiting Maryland's Eastern Shore, you feel a little flabbergasted by the short hop home. The peninsula that is DelMarVa feels like a different world of small towns and farms; creative, locally owned restaurants; and cultural attractions that speak to both the history and the present. On a recent trip across the Bay Bridge, we sought out some of our favorite women-owned businesses. At the same time, we made new friends, women who are eagerly maintaining the legacies of both the maritime industry and one of the region's rock stars, Harriet Tubman.
Jaime Windon |
Lyon Distilling Company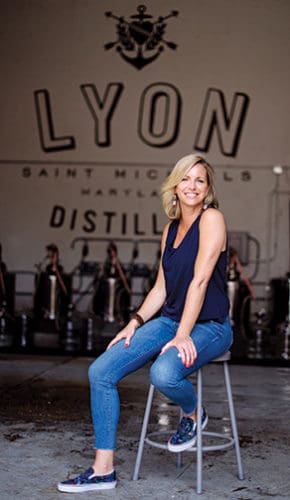 Jaime Windon, who moved to St. Michaels in 2012, is an elected town commissioner and a founder of Lyon Distilling, which makes a line of signature rums and whiskeys. Lyon's Rock and Rum, which you could call an old fashioned-in-a-bottle, is infused with orange botanicals and dark cherries, and its American malt whiskey is double distilled and barrel-aged. A native of Washington, D.C., Windon, has lived in Africa and South America, working as a photographer, journalist, bartender and innkeeper. Windon, who is also president of the Maryland Distillers Guild, loves her little town of just under 800–even when its population doubles in summer, and swells to many more on festival weekends like the spring WineFest. The Lyon distillery and tasting room share space in a repurposed flour mill complex with antiques shops and artisans, adjacent to both St. Michaels Winery and Eastern Shore Brewing.