We are very excited to announce that Lyon Distilling Dark Rum is featured in Salazon Chocolate Company's new Handcrafted Series! Check out these gorgeous labels and – trust us – delicious chocolate bars, made with our rum! Every bar in this special series is made by hand from "bean-to-bar" in Maryland, with local craft food artisans. Lyon Distilling rum is in good company with New Columbia Distillers Green Hat Gin, Michele's Granola, J.Q. Dickinson Salt-Works and others. Official press release from Salazon below, and launch party/sales info soon…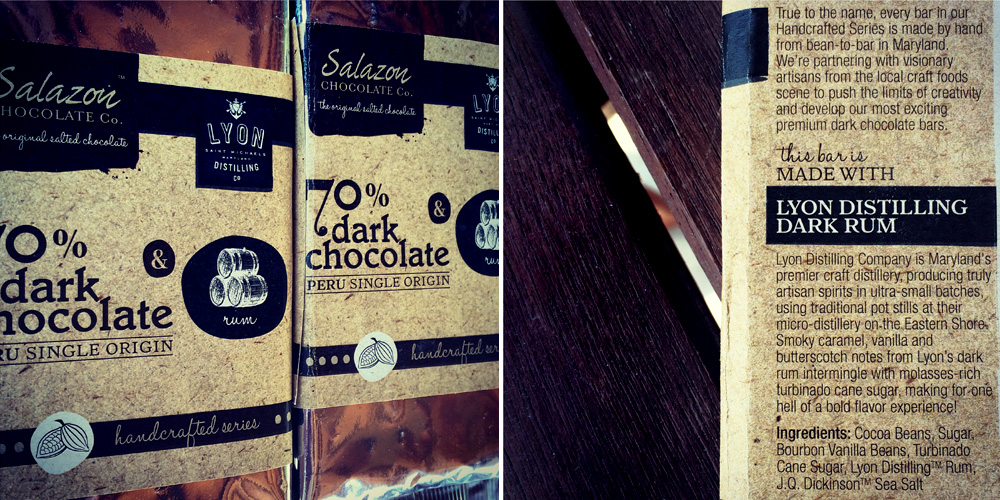 SALAZON CHOCOLATE CO. BUILDS LOCAL PARTNERSHIPS WITH ITS NEW HANDCRAFTED SERIES
Eldersburg, MD | March 1, 2015
Salazon Chocolate Co., the fast growing maker of organic salted chocolate, today announced the launch of their locally focused Handcrafted Series.
The Handcrafted Series is made by hand from bean-to-bar in Maryland. For each bar in the series, Salazon is partnering with a local craft food artisan. "Our goal for the Handcrafted Series is to tap into the burgeoning local craft food scene in Maryland for inspiration so we can push the limits of creativity and develop innovative new flavor combinations," said Pete Truby, founder of Salazon Chocolate Co. "If you work alone, eventually you'll hit a dead end. But when you introduce fresh perspectives, there are no creative limits."
Salazon Chocolate Co. plans to take advantage of small batch sizes by routinely introducing new seasonal and limited releases to an ever-changing lineup. Company management expects that this highly experimental environment will serve as an incubator for new concepts that have the potential for national rollout. The first release features directly traded Peruvian single-origin cacao paired with exciting ingredients in six new bars, which are:
– 70% Dark Chocolate with Sea Salt
– 70% Dark Chocolate with Granola
– 70% Dark Chocolate with Lavender
– 70% Dark Chocolate with Coffee
– 70% Dark Chocolate with Gin
– 70% Dark Chocolate with Rum
Partners for the first six bars include J.Q. Dickinson Salt-Works (Malden, WV), Michele's Granola (Baltimore, MD), Silver Linings Lavender (Eldersburg, MD), Choco Sombra Coffee (Frederick, MD), New Columbia Distillers (Washington, DC), and Lyon Distilling (St. Michael's, MD). The Handcrafted Series will be available on a limited basis at select Maryland and Washington, DC specialty and natural food stores and online starting in March (SRP $5.99).
Founded in 2009, Salazon Chocolate Co. is the originator of the salted chocolate bar. Salazon's original, nationally distributed line of bars is made from 100% organic, single-origin Hispaniola cacao beans that are shade-grown, fermented, and sun dried in the Dominican Republic and certified by Rainforest-Alliance and Fair Trade USA. Each bar is hand sprinkled with natural solar-evaporated sea salt. Salazon Chocolate Co.'s original line is sold in more than 2,500 stores across the U.S., including Whole Foods Market, Sprouts Farmers Market, Wegmans, and other natural and gourmet food stores. For more information about Salazon Chocolate Co., visit www.salazonchoc.com.