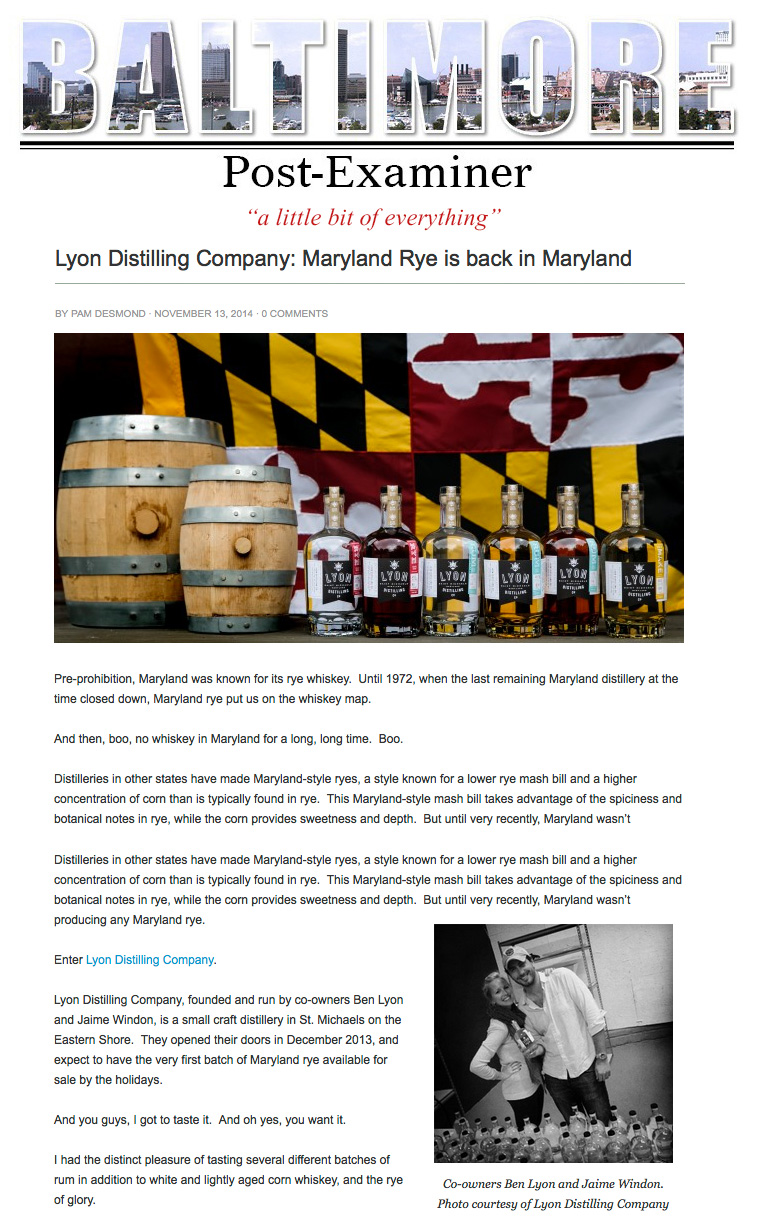 Baltimore Post-Examiner, November 13, 2014
By Pam Desmond
Lyon Distilling Company | Maryland Rye is back in Maryland
Pre-prohibition, Maryland was known for its rye whiskey. Until 1972, when the last remaining Maryland distillery at the time closed down, Maryland rye put us on the whiskey map.
And then, boo, no whiskey in Maryland for a long, long time. Boo.
Distilleries in other states have made Maryland-style ryes, a style known for a lower rye mash bill and a higher concentration of corn than is typically found in rye. This Maryland-style mash bill takes advantage of the spiciness and botanical notes in rye, while the corn provides sweetness and depth. But until very recently, Maryland wasn't producing any Maryland rye.
Enter Lyon Distilling Company.
Lyon Distilling Company, founded and run by co-owners Ben Lyon and Jaime Windon, is a small craft distillery in St. Michaels on the Eastern Shore. They opened their doors in December 2013, and expect to have the very first batch of Maryland rye available for sale by the holidays.
And you guys, I got to taste it. And oh yes, you want it.
I had the distinct pleasure of tasting several different batches of rum in addition to white and lightly aged corn whiskey, and the rye of glory.
One batch of rum was aged in French oak rather than American, which imparts less sweetness and makes a complex and subtle craft spirit that tastes nothing like the rum and coke cloy I associate with rum. Another rum was aged using old bourbon barrels, creating a sort of hybrid flavor that was rum for the whiskey palate. Be still my heart. As of this past week, they had two bottles of the bourbon barrel aged rum left. And then I bought one, so there might be one bottle left. Or not.
When I say craft distillery, I mean craft. They are producing extremely small runs of excellent booze, and typically sell out quickly, sometimes within hours. Head distiller, Ben Lyon, takes his craft very seriously. Both his passion and his partner Jaime's enthusiasm are utterly infectious. Ben comes from the beer brewing world, and brings the experimental energy of that world to his distilling.
Most of what he said about why this stuff is so good went over my head. He threw around words like "exothermic reaction" to explain why he puts the white spirits in the barrels at a lower proof than most distilleries. But he also brings a passion for the history of the hooch, romanticizing the history of rum in particular with talk of pirates and the high seas.
He laments the massive scale of operations in most distilleries, taking obvious pleasure in crafting excellent spirits in a more traditional way, while balancing that tradition with creative and unique ideas on how to make a better bottle of booze.
Speaking of better booze, Lyon's white corn whiskey, essentially moonshine, was a bit of a revelation. I'm not a big fan of white whiskeys generally, but this stuff was very good. At 90% corn, 8% barley, 2% rye, and completely unaged, it was surprisingly subtle and pleasant. "If you're putting a really good white spirit in the barrel, you don't have to age it for years," Ben explained.
Prohibition-era whiskey prescription wallpaper.
Prohibition-era whiskey prescription wallpaper. Photo courtesy of Lyon Distilling Company.
I also tasted a barrel aged version of the corn whiskey, this one from a different batch that included chocolate rye malt in the mash bill instead of standard rye. Chocolate rye malt, more commonly used in the brewing world, imparted absolutely gorgeous chocolate notes in the nose of the whiskey that made me wonder why more distillers aren't experimenting with it.
The barrel-aged rye is not quite ready for public consumption, and needs just a few more weeks in the barrel. Only a handful of people have gotten to taste the early version, and I feel lucky to have been one of them. Lyon Distilling has created a beautiful rye to bring the rye tradition back to Maryland. Classic Maryland rye, with corn sweetness on the tip of the tongue and the spicy grassy bite of rye following after. It has a depth and complexity that belies the fairly short time in the barrel, presumably because, if the corn whiskey is any indication, an impeccable white spirit went into that barrel.
If you're anywhere near the Eastern Shore, I highly recommend a visit to the Lyon Distilling Company's tasting room. It was one of the more delightful afternoons I have spent, and I can't wait to go back with friends.
These are my people.
These are so my people.
The tasting room is open noon-5pm on Fridays, noon-6pm on Saturdays, and noon-3pm on Sundays. It is located at 605 S. Talbot Street in quaint and charming Saint Michaels, in the Old Mill area.
There's a bit of a search to find it, as it is not right on Talbot Street. The search imparts a pleasant speakeasy challenge to start off your visit. Here's a hint: Go into the Old Mill via East Chew Avenue. And look for the doorbell that says "Buzz for Booze."
If you're interested in being one of the first people in over forty years to buy a bottle of true Maryland rye, follow Lyon Distilling Company on Facebook. And the minute word comes down that the rye is ready, run. Because it won't last long.