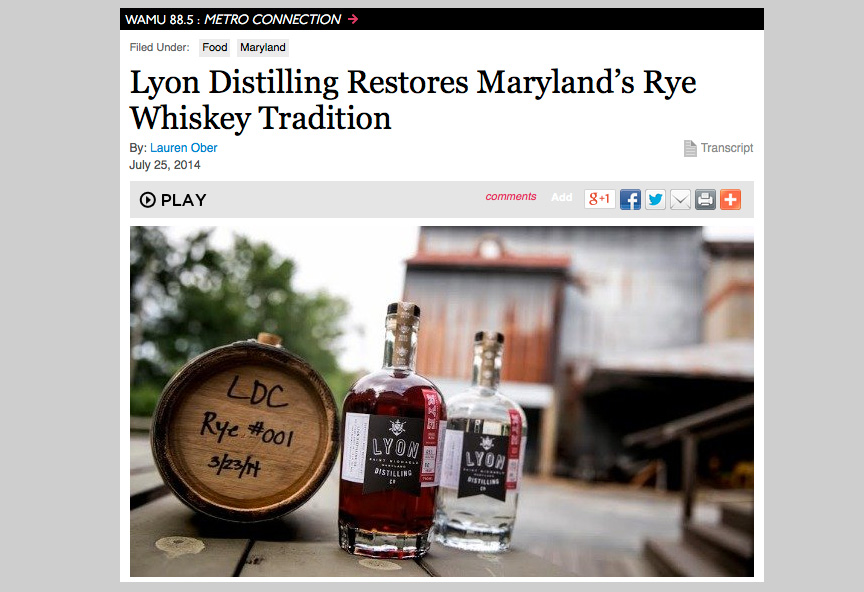 NPR | WAMU 88.5, July 25, 2014
By Lauren Ober
Lyon Distilling Restores Maryland's Rye Whiskey Tradition
Back in the day, Maryland grew a whole lot of tobacco. And while tobacco might be great for the economy, it does a number on the soil.
Tobacco plants naturally deplete the soil of nitrogen. Planting rye as a cover crop in the winter is one way to replenish the lost nutrients, explains Ben Lyon, head distiller at Lyon Distilling in St. Michaels, Maryland.
"You would have all this rye planted over the winter and then part of it would get plowed under. The other part would obviously get harvested and then turned into something," Lyon said. "And of course there's only so much rye bread you can eat and the other part of that ended up going to making whiskey."
This rye whiskey was special. Unlike most ryes, the Maryland version uses less of the grain. The liquor is about 60 percent rye. The rest of the spirit is made of corn and a little bit of malted barley. This gives the liquor a softer, smoother taste than other popular ryes of the time.
"What you had was those desirable qualities of rye where you're getting that spicy, floral character. You get a certain depth and sweetness that comes naturally from that grain, but in kind of a measured way," Lyon said.
Jaime Windon of Lyon Distilling in St. Michaels, Maryland. (WAMU/Lauren Ober)
Before Prohibition and just after, Maryland distilleries cranked out the stuff. In 1936, Maryland led the nation in rye production.
But times and tastes change and by the 1970s, Maryland rye had fallen off the map. In part, you can blame the James Bond cocktail phenomenon.
"Vodka and gin started to become very popular at the time. And people were looking at rye like it's kind of grandpa's whiskey," Lyon said. "And the other thing is vodka and gin are a little bit easier to drink for the untrained palate."
Today, there is only one distiller in the state making Maryland rye — and that's Ben Lyon. With his partner Jaime Windon, Lyon opened his operation at the end of 2013. It's only the second new craft distillery to open in Maryland in four decades.
"With his ingenious creativity, [Ben] kind of laid out a very rough sketch and said I can build everything except for the stills. And I want to do small stills, I want to do things that are a little off the radar," Windon said.
Those off-the-radar spirits include three types of rum, the Maryland rye and a 100-proof corn whiskey that's basically moonshine. Lyon and Windon make fewer than 100 bottles of liquor a week.
The old flour mill that now serves as the distillery is huge, with soaring ceilings. Big drums of fermenting mash bubble on one side of the room. Catty corner are the copper pot stills where the alcohol is distilled.
After checking on some fermenting liquid that will soon become rum, Lyon grinds some malted rye with a grinder he jury-rigged himself.
Like brewers, distillers are using all kinds of malts to bring out different flavors in their spirits. This one is a chocolate rye malt.
"It's actually malted rye that was then toasted to bring out some of these flavors. I mean you can smell it, it almost smells chocolatey, malty. And it's really cool stuff," Lyon said. "It also sort of adds the perception of age to the spirit."
The rye spice comes across as a smoky finish. Assertive, but not overpowering. It's easy to see how this drink once put Maryland on the spirits map — and maybe could do so again.
Ginger Mojito
2 oz Lyon Dark Rum, 1 oz mint simple syrup, splash of fresh lime juice, 2 oz Fever Tree Ginger Beer
Distiller's Rum Punch
1 bottle Lyon Dark Rum, 2 bottles white grapefruit juice, juice of 4 limes, fresh grated nutmeg
Music: "Hey Good Lookin" by The Nashville Valley Boys from Country Piano & Guitar Favorites