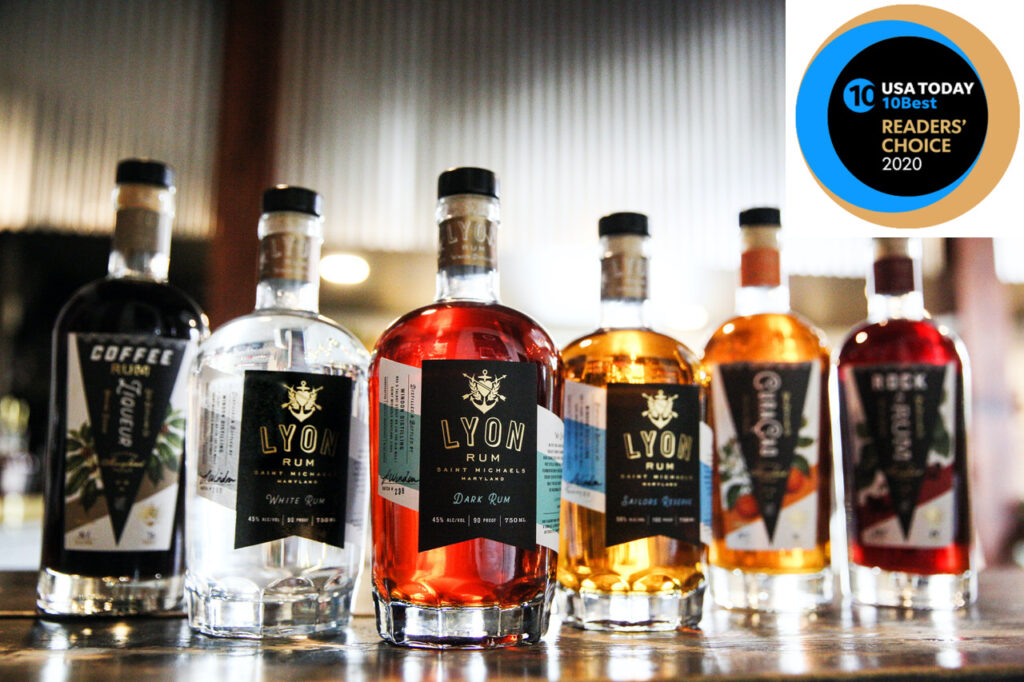 LYON RUM, the flagship spirit of Windon Distilling Company in Saint Michaels, Maryland, is nominated for Best Craft Rum Distillery in the annual USA Today 10Best Readers' Choice Awards.
Selected by a panel of industry experts and rum aficionados, LYON RUM is the only Maryland distillery among the 20 finalists, for the fourth year in a row. Each year LYON RUM has placed in the top 10: 4th in 2017, 5th in 2018, and 2nd in 2019.
Securing the number one spot is no easy feat — LYON RUM is competing with some of the best American rums in the country for daily votes over the course of a month, and has been ranked in the #1/#2 position for the last three weeks. The contest ends on September 14, at 12pm.
Although 2020 has brought many challenges for craft distilleries like Windon Distilling Company, with the tasting room shuttered for the last five months, new expanded wholesale into additional markets has helped keep spirits high, and rum flowing. Partnering with two new distributors this year, LYON RUM is now available in New Jersey, New York (and soon Pennsylvania) via Regal Wine Imports, and in Florida, through Drink Good Liquor Inc — for a total of nine states where you can enjoy Maryland's original craft rum.
"Our team is incredibly proud to be nominated — we love making rum and sharing it with people, and we are so appreciative of all the accolades and encouragement we have received over the last seven years," says Jaime Windon, founder & CEO of Windon Distilling Company. "It would be pretty amazing to be recognized as USA Today's Best Craft Rum Distillery this year."
Cast your vote for LYON RUM:
https://www.10best.com/awards/travel/best-craft-rum-distillery/lyon-distilling-company-st-michaels-maryland/